2018-2019 Virginia Elite Player Fees
13s Team - $5,100
14s Team - $6,200
15s Team - $7,660
16s Team - $9,990
17s Team - $9,990
18s Team - $8,640
* Fees are based on 12 players per team, with the exception of 18s which are based on 13 players. Please e-mail accounting@vaelite.com for alternative payment plan options.
VIRGINIA ELITE OFFERS AN ALL INCLUSIVE CLUB VOLLEYBALL EXPERIENCE:
Nike Uniform Package
3 jerseys, 1 pair of spandex, 1 warm-up jacket and pant, 2 Practice T-Shirts, 1 Dig Pink T-Shirt, 1 pair of socks, 1 pair of kneepads and Backpack
Coaches
3 coaches per team
Practices
Elite practices are divided into 2 training phases, which are a mix of club-wide academy style training and team practices. Phase I includes: 8 hours per team per week of training. Phase II includes: 7 hours per week per team of training.
Tournaments
Entry fees for all tournaments including end of season tournament (AAU Nationals or USAV Nationals). *Tournament schedules are located on team pages*


Travel
Hotel accommodations, airfare, bus travel for City of Oaks, MAPL Hampton and MAPL Raleigh, coaches travel, chaperone travel, baggage fees and limited ground transportation at tournament cities. (Note: 15s-18s teams share rooms, 14s team share rooms at end of season tournament and 13s-14s Teams room with parents.)
Recruiting
Dedicated Recruiting Director with over 16 years of college coaching experience. Recruiting panels (Q&A) with all families to include: Alumni Recruiting Panel (late December), College Coaches Recruiting Panel and Player Showcase (late January) and Recruiting from the Parent Perspective (February). Proven recruiting process customized with each athletes individual goals in mind and facilitated by the Recruiting Director and team Coaches.
Additional Program Inclusions
Dinners during bus trips TO tournament cities only, signing day event, season kick-off event and lock-in, club wide meals when schedules allow at tournaments, Virginia Elite Cup and Alumni match, recognition awards, big sister/little sister program, leadership training with renowned sports psychologists and end of season banquet.
2018-2019 Tuition Cost Comparison
We took the guess work out of deciphering all the costs that go into one season of club volleyball for one of our most travel intensive teams (16s) in the area. Then we compared it to three other area clubs and outlined the information in the illustration below the payment options section. Please scroll down for more information.
2018 - 2019 Tuition Payment Schedule
Payment Options
We offer payment of dues via cash, check or credit card.
Cash:
Please ensure, if paying by cash, you contact Lexi Patton to arrange for payment to be provided in person to Lexi. Please do not give cash payments to coaches or other staff in the event it gets misplaced.
Check:
You are welcome to send checks to the PO Box below or bring payment to Madeira and place in the VAE Mailbox in the gym office.
Mailing Address:
Virginia Elite
PO Box 23672
Alexandria, VA 22304
Credit Card:
The link below will take you to our credit card payment site, payment via credit card does have associated fees that are not able to be waived.
2018-2019 Tuition Cost Comparison
Myth: Virginia Elite is the most expensive club in the region.
Fact: Virginia Elite is the only club that advertises all inclusive pricing.
The illustration outlines how the all inclusive nature of Virginia Elite pricing compares to other area clubs once all costs associate with one year of club Volleyball are factored in.
Note: Figures are based on 2017-2018 tuition costs.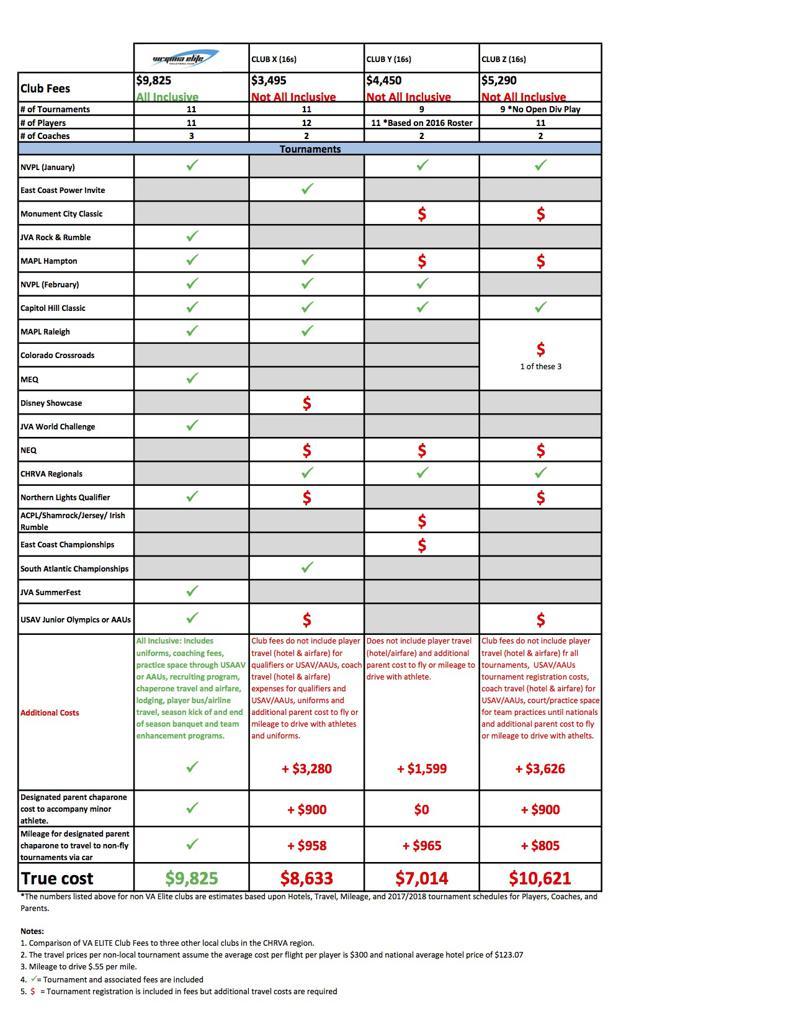 Frequently Asked Questions
Please read through our FAQ document for answers to commonly asked questions. As always, please feel free to reach out if you have additional questions.