Virginia Elite Vision
The Virginia Elite experience is rooted in the core founding values: Excellence, Leadership, Initiative, Teamwork and Enjoyment (E.L.I.T.E.). Our program welcomes and develops diverse athletes committed to these values, as well as, hard work, discipline, sportsmanship, competition, and opportunity.
Virginia Elite strives to exemplify an innovative, positive and competitive learning environment with committed coaches and engaged athletes who seek to develop crucial skills for both on and off the court. Our athletes, coaches and members of the Virginia Elite family aspire to foster an environment that helps to develop the whole athlete as they:
recognize their own talent and appreciate the talents of others

seek personal, academic and athletic excellence

give voice to and exemplify their ideals

learn how to advocate for themselves, proper time-management, conflict resolution and pursue greatness through action

reach their goals of playing at the collegiate level

The Virginia Elite vision is to provide the premier all-inclusive club volleyball program designed to help our athletes reach their full potential on and off the court.
Virginia Elite Mission
Founded in 2005, nationally recognized Virginia Elite Volleyball Club is a community of talented and diverse young athletes. In a competitive and caring environment, we inspire players at all levels to develop a strong core of discipline, character, leadership, and excellence that will enrich them throughout their lives.
Core Values
Based on its core values, Virginia Elite seeks to provide a positive experience for each player in an environment where they can grow and develop, both as a player and a person. We recognize that doing so requires the engagement of all members of a great club: coaches, players and parents. We seek coaches, players, and parents who are committed to creating an "ELITE" experience for all members of the club. We believe that this ELITE team experience exists at the intersection of our core values, as portrayed below:
Excellence. Leadership. Initiative. Teamwork. Enjoyment.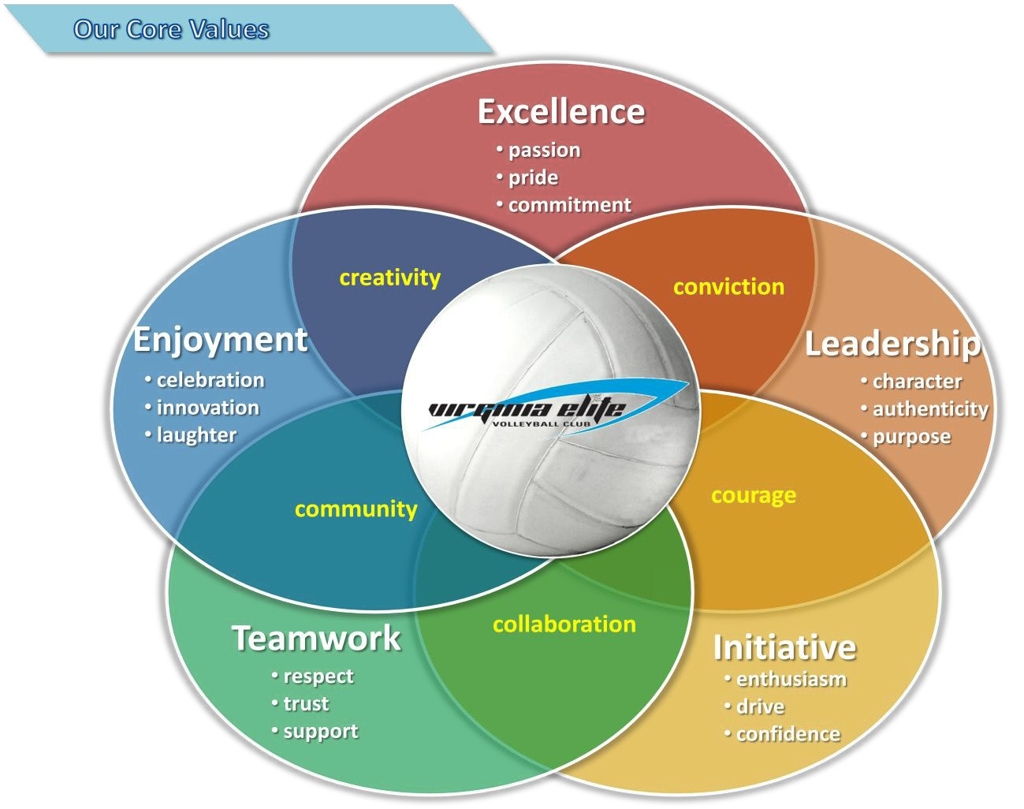 Facility
Our primary training facility is The Hurd Sports Center at The Madeira School.
The Hurd Sports Center was opened in September 1992. This award-winning facility includes a gym, side-by-side volleyball courts and a basketball court, weight room, competitive swimming pool, dance studio, locker rooms, athletic training room, and offices for the teaching and coaching staff. Outdoor facilities include three full-size playing fields, eight tennis courts, and cross-country trails. Because of our excellent facilities, Madeira hosts many tournaments throughout the school year.
Location
The Madeira School
8328 Georgetown Pike
McLean, VA 22102
Help Virginia Elite Fight Juvenile Diabetes
Every year we walk as a club in the JDRF Walk to Cure Diabetes in honor of Cameron "Cam" Carter.