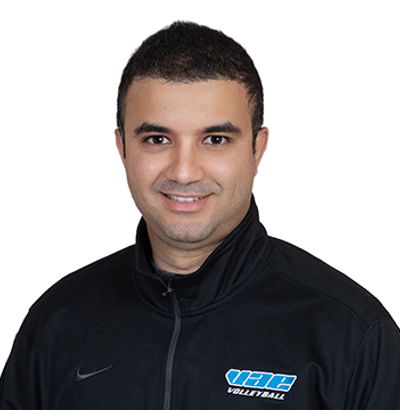 Mehdi El Alaoui
16's Head Coach
Mehdi El Alaoui begins his third year with Virginia Elite as an assistant coach of the 16's team. In addition to an accomplished professional career, El Alaoui brings a wealth of experience in coaching across the Chesapeake Region to the club.
El Alaoui currently coaches the varsity volleyball team at Bishop O'Connell High School. He has led the knights to both a Washington Catholic Athletic Conference title and a VISAA State Championship, and has also been the conference's Coach of the Year. Under his 10-year tenure, O'Connell currently holds an outstanding 169-87 record. El Alaoui previously served as the head coach of multiple 15's-18's teams at Dulles Volleyball Club, Delaware United Volleyball Club, and Virginia United Volleyball Club. He is CAP 2 and BCAP 1 certified by USA Volleyball.
El Alaoui began playing volleyball in his home country of Morocco and was invited to play for the Moroccan Junior National Team. He then went on to sign a professional contract with Morocco's Association Sportive Sale, where he captained the team to a Division II Championship and a spot in Division I. After relocating to the US, El Alaoui earned a B.A. in Middle East Studies from George Washington University. He currently resides in Reston, Virginia, and teaches health and physical education for Bishop O'Connell.